The Hypertension Clinic is a regional resource for patients with severe hypertension, or those where a "secondary" or specific identifiable cause of hypertension is suspected
---
Clinic director Dr. Matthew Rivara, and his team at the Hypertension Clinic use a comprehensive patient-centered approach to pursue diagnostic testing and development of a tailored management plan for referred patients.
This approach includes non-invasive laboratory testing and imaging, and referral for invasive tests (such as renal artery angiography or adrenal vein sampling) or genetic testing when appropriate.
In some cases, the Hypertension Clinic incorporates the use of ambulatory blood pressure monitoring, a technique that utilizes a small, wearable device to take measurements of a patient's blood pressure over a 24- to 48-hour period.
Learn more about the Hypertension Clinic
"I am excited to be a part of the Hypertension Clinic at Harborview!

Our goal at the Clinic is to provide comprehensive, evidence-based, and high quality care to patients with severe hypertension using a collaborative and multidisciplinary approach.  We work with each patient to develop an individualized plan of care that best meets the needs of that individual. 

We utilize the full range of resources available through UW Medicine, including laboratory testing, diagnostic imaging, genetic counseling, and collaboration with colleagues in Clinical Pharmacy, Interventional Radiology, Cardiology, Endocrinology, and Nutrition when needed. 

We also frequently employ ambulatory blood pressure monitoring in our evaluation process, a technique that provides the most accurate method for determining blood pressure at home."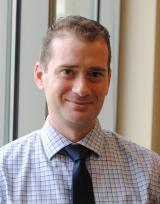 Hypertension Clinic Director
Board-certified hypertension specialist and Nephrologist