CLINICAL CARE
We serve a diverse patient population across the Puget Sound area and with a broad referral from the five-state WWAMI region.  
Inpatient Care
Our faculty provide consultative kidney care at three hospitals in the region (Harborview Medical Center, University of Washington Medical Center, and VA Puget Sound) through seven clinical services.
In addition to inpatient general nephrology and transplant care, it includes innovative multidisciplinary team care through the Kidney-Liver program (since 2016) and the Kidney Heart Service (since 2020) at the University of Washington Medical Center.
Illustrative of the high volume of clinical care, in 2022 our faculty provided nearly 15,000 inpatient dialysis treatments and about 170 kidney biopsies.
Outpatient Care
Most of the kidney disease care is delivered in the outpatient setting and in 2022 we provided ambulatory care with over 25,000 patient-care visits. A large part of this care was delivered through general nephrology clinics at the three primary clinical sites (Harborview, UWMC, VA Puget Sound) and a VA satellite clinic in American Lake.  
Over the last decade, we have established at least 13 different subspecialty clinics to provide state-of-the-art clinical care to an increasingly complex population of patients.
This has included Kidney Genetics Clinic and Hypertension Clinic at Harborview Medical Center, Glomerular Clinic, Kidney-Liver, Kidney-Heart, and Onconephrology Clinic at UWMC-Montlake, Kidney Stone Clinic at UWMC-Northwest, Low GFR Clinic at the Puget Sound VA, Transplant-Cancer Clinic at Fred Hutchinson Cancer Center, and Pediatrics-Adult Transplant Transition Clinic at Seattle Children's Hospital.
Further, one nephrologist is embedded within the Diabetes Clinic at South Lake Union, allowing for a multidisciplinary continuum of care at one site.
Clinic sites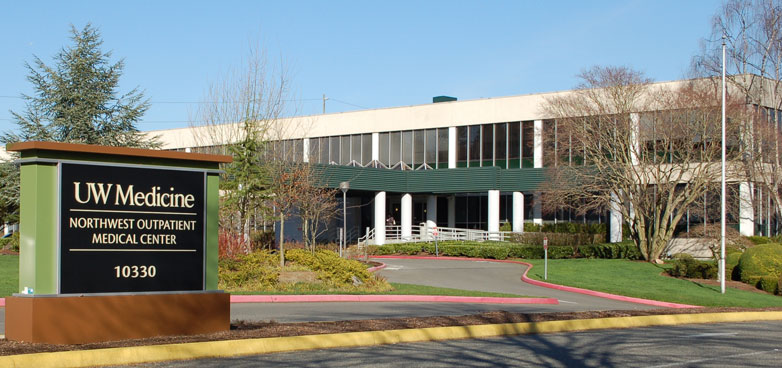 UW Medical Center Northwest 
learn more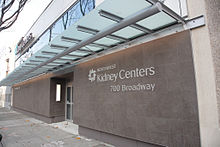 Outpatient Dialysis
learn more
Outpatient Dialysis Program
Our Dialysis Program provides care for patients with acute and chronic kidney disease who require dialysis therapies through in-center hemodialysis, peritoneal dialysis, or home hemodialysis.
We provide outpatient dialysis care to patients in King, Snohomish, and Pierce counties, and include care for patients undergoing in-center hemodialysis or home dialysis (peritoneal or home hemodialysis).
Our care philosophy is highly patient-centered – unique in our community, our nephrology care providers drive to dialysis units to see patients while they are undergoing in-center hemodialysis rather than asking them to drive to our clinical sites during their dialysis-free time. Further, a larger proportion of our patients are treated with home dialysis than in the community or nation at large.
Finally, work at UW has led to the establishment of the first-ever community-based kidney supportive care program at the Northwest Kidney Centers to deliver palliative care to patients undergoing long-term dialysis.
Kidney Transplant Program
Our Kidney and Kidney-Pancreas-Liver Transplant Program offers pre-and postoperative care. This includes pre-transplant evaluations, post-transplant care, Living Donor evaluations, and information about the United Network for Organ Sharing (UNOS).
The nationally acclaimed transplant program is the largest in the Pacific Northwest and over 200 deceased and living-donor kidney transplants are being performed at UWMC yearly.
The program is a model of multidisciplinary collaboration and is consistently ranked at or near the top nationally for the time it takes from listing to receiving a transplant and allograft survival. We anticipate continued programmatic growth with the recent establishment of the Transplant Institute.
Patient care news