Overview
Kidney-Liver patients are a particularly vulnerable group that require special attention and individualized care
Dr. Cary Paine, Clinical Associate Professor, and Dr. Raimund Pichler Associate Professor, spearhead the Kidney Liver Program. Drs. Paine and Pichler are rounding daily with Hepatologists, Transplant Surgeons, and Intensive Care Unit teams to provide seamless and all-inclusive care to their patients.
Both providers also see patients in the ambulatory clinic to provide coordinated specialty care in the outpatient setting.
Contact Info
Contact info
Kidney Liver Clinic
206.598.6267
This multidisciplinary team approach significantly improves access to care and communication amongst specialists to promote patient wellbeing
A recent analysis of the impact of this new service has shown decreased length of hospitalization, enhanced readiness for discharge of patients to the outpatient setting, and improvements in quality metrics in the operating room during liver transplantation.
---
"We've created an entirely new approach to caring for kidney problems in patients with liver disease, particularly during the most vulnerable periods before and after liver transplantation.
I'm excited each day to work closely with our colleagues in hepatology and transplant surgery to offer the best clinical care possible, while engaging in exciting new clinical research that will move the field forward and expand the treatments we are able to offer to our patients."
Dr. Cary Paine
Clinical Associate Professor
"We are thrilled to be part of the UW Kidney Liver Program, which to our knowledge, is the first service of it's kind in the nation. We greatly enjoy working with a comprehensive, multidisciplinary and multiprofessional team including nephrologists, liver specialists, surgeons, social workers, pharmacists, clinical nurse specialists, advanced practitioners, physical therapists and nutritionists. 

We believe it is this multidisciplinary approach that allows us to formulate the most comprehensive, individualized and all-inclusive treatment strategies for best patient outcomes.

We love helping our patients to succeed on their path to health."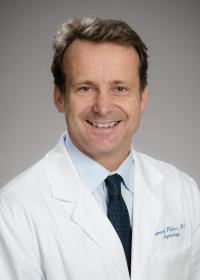 Dr. Raimund Pichler
Associate Professor