Training Sites
All fellows rotate through the major clinical training sites: Harborview Medical Center, University of Washington Medical Center,  and the VA Puget Sound Healthcare System. Together, these hospitals have over 1,000 beds and 45,000 admissions annually.
Fellows also spend time rounding in the outpatient dialysis units at the Northwest Kidney Centers.
Clinical Rotations
Nephrology Inpatient Consultative Services: 7-8 months (first year); 5-6 months (second year)
Kidney Transplantation: 2 months (first year)
Chronic Dialysis: 1 month (first year); 2 months (second year)
Elective Rotation: 1-2 months (first year); 4-5 months (second year)
Ambulatory Clinics
Your ambulatory clinic experience is curated to your special interests. Below are the numerous clinics that are available:
Diabetes Kidney Clinic
General Nephrology Continuity Clinics
Genetic Diseases of the Kidney Clinic
Glomerular Disease Clinic
Hemodialysis/Home Hemodialysis/Peritoneal Dialysis
Hypertension Clinics
Kidney Heart Clinic
Kidney Liver Clinic
Nephrolithiasis Clinic
Onco-Nephrology Clinic
Pre & Post Kidney Transplantation Clinic
Renal Pathology
Conferences
Educational conferences are an integral component of our training program, and run weekly and monthly at each of our hospital sites.
Fellow Tutorials
Year-round tutorials (Monday morning) designed to cover and supplement core components of the ACGME Medical Knowledge and Procedural Competencies.
Summer Lecture Series
2-day intensive introduction to clinical and transplant nephrology for first year fellows
8-week summer dialysis series for first- and second-year fellows
Kidney biopsy simulation
Central venous catheter simulation
Point-of-Care Ultrasound (POCUS)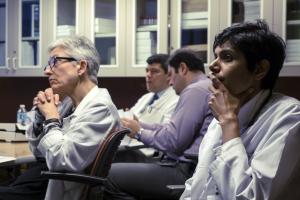 Professor Rounds and Journal Club
Weekly clinical site-based conferences which provide a venue for complex case discussions, journal club, morbidity & mortality, and quality improvement projects.
Nephrology Grand Rounds / Biopsy Conference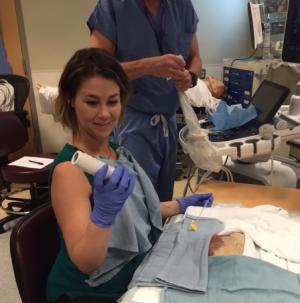 Formal scholarly and case-based presentations involving fellows, faculty, and visiting scholars, and attended by the Division of Nephrology, Pediatric Nephrology, and Kidney Pathology.